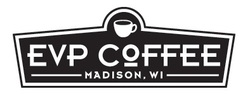 Welcome to our online store! As Madison's premier small batch artisan coffee roaster, we strive to offer the best coffees from various regions around the world. We offer a wide selection of organic, fair trade and other premium coffees. We roast 7 days a week, so you will always receive fresh, small batch beans roasted with care & love.

When placing an order with us, it is our highest priority that you receive the freshest coffee possible. We make every effort to get your coffee in the mail as quickly as possible. We ship orders out Monday through Friday with USPS Priority mail. Once in the mail, your coffee should arrive in 1-3 business days, depending on your location.

Cannot find the coffee you are looking for? Please send us an email at: evpcoffee@gmail.com. We have a wide variety in stock and are unable to list all our offerings online. If we have it in stock, we will roast and ship your preferred coffee. Ordering 7 pounds or more? Your order will continue to qualify for free shipping! As always, we are more than happy to take your order over the phone or assist you over email with any problems or issues you may have.